Southern Trading Australia Pty. Ltd.
- Home Page
WELCOME...
Welcome to Southern Trading Australia Pty. Ltd., one of Australia's leading boutique suppliers of specialty seafood products. This site will provide you with a little information about our company, its products, the people and its services.
What is Southern Trading...
The original business activities of Southern Trading Australia P/L were started in 1990 by the two directors Messrs Ben Goh and Yang Seng Cheng. The business was then known as Southern Trading Co. Over that period of time it built up its business base on seafood products. We specialise in those Australian seafood products, which are particularly suited to the Asian markets.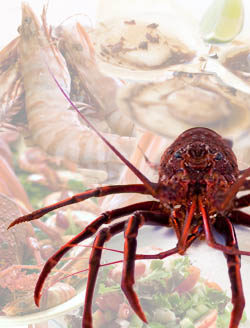 Our products include frozen scallops, abalone, prawns, lobsters, squid and our live products include deep sea crabs (crystal, king, spiny) and rock lobster (western and southern).
As the business grew, the original shareholders saw the need to bring on additional management, capital and expertise to enable the business to move to its next level of development.

In December, 2004 the business was transferred into a new entity named Southern Trading Australia Pty. Ltd. Whilst retaining its two original shareholders, it introduced new shareholders/directors including Mr Glen Bosman who is now the Managing Director of the business. Mr Bosman has a wealth of experience in the seafood industry commencing from the catching sector through to processing, logistics, storage, marketing and distribution.

In November, 2005 Southern Trading Australia Pty. Ltd. acquired new and a lot larger business premises at 16 Emplacement Crescent, Hamilton Hill, WA. The purpose of this acquisition was to enable the company to substantially expand its business base.
---